---
WE USE THE MOST SECURE INTERNET PAYMENT SYSTEMS
---
Pay with your CREDIT CARD or your PAYPAL account thru PAYPAL SECURITY CHECKOUT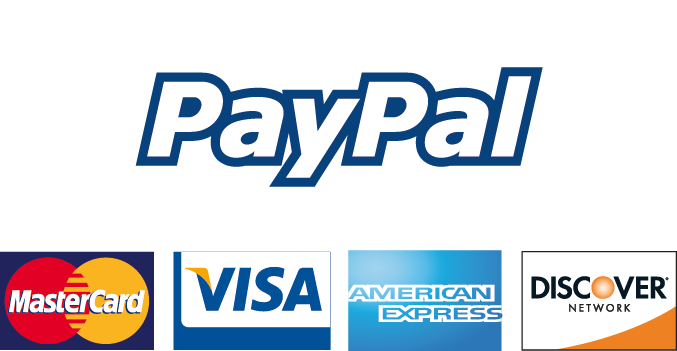 PayPal, the trusted leader in online payments, enables buyers and businesses to send and receive money online. You don't have to have a Paypal account to pay here. You can use your credit card VISA, MASTER CARD or AMERICAN EXPRESS and Paypal will process the payment thru its secured platform without charging any commission to you. Of course, if you have a Paypal account you can use it too. You know how easy is to pay with your Paypal account.
Is it safe to use?
PayPal helps protect your credit card information with industry-leading security and fraud prevention systems. When you use PayPal, your financial information is never shared with the merchant.
How to use PayPal?
It's easy, if you have an account with Paypal, our payment module connected with it and you can pay with your settings you have in your Paypal account.
If you do not have a Paypal account you can make payment with your credit card through the secure payment platform Paypal. No additional fees or commissions for you.
Are there any fees or charges for using Paypal?
Using Paypal carries no fees or commissions to the client. The final amount of the purchase that you see in your shopping cart corresponds exactly to the amount charged by Paypal.
---
Bank Wire with your bank account or with TRUSTLY

Everyone can use Trustly only need a online bank account .
 
The safest method of payment: Pay Trustly has the same security to pay from an online bank account . The buyer only needs to access their usual passwords and you need the code generated single-use your bank card as SMS or coordinates, to authorize payment of each transaction.
 
Payments in 40 seconds: In 3 simple steps. No previous records or endless forms without depositing money in other accounts or to memorize new passwords and codes, and the best, free.
 
Ability to pay high amount products : Paying high amounts , for example, travel goods , appliances or home among others, is the possible end with Trustly .
The online shopper can use the money you have available in your account. There is no restriction of credit limit , contrary to what happens with the cards.

Contact us
By telephone
+34 918428684
Monday to Friday
From 10.00 to 18.00

By mail:
info@guitarfromspain.com
24h / 365
Contact us