---
Update - Oct. 3, 2019: CITES Issues Official Notification for Dalbergia (Rosewood) Annotation Change
Today CITES (Convention on International Trade in Endangered Species of Wild Fauna and Flora) issued an official notification stating that the effective date for the musical instrument exemption from the dalbergia permitting requirement is November 26, 2019.
The official notification, found on page 6 here, also contains definitions applicable to the exemption. As noted upon the approval of Annotation 15, imports and exports of finished musical instruments, finished parts, and finished accessories will no longer need a CITES permit. The exception applies to all species of dalbergia except Brazilian rosewood, which remains on CITES Appendix I. The notification comes on the heels of the Conference of the Parties (CoP18) in Geneva, Switzerland, in August of this year, where Annotation 15 was adopted by the 182 countries and the EU.
---

---
Guitar From Spain provides CITES Export permits with all the guitars with woods included in CITES II for our international shipments outside the EU.
---
From January 2nd 2017 onwards, all species of Dalbergia (Rosewood) have been included in CITES Appendix II, as well as Bubinga (Guibourtia demeusei, Guibourtia pellegriniana and Guibourtia tessmannii). Some species of Dalbergia that were already in CITES have had their annotation changed.
It is important to point out that the woods affected by these new regulations are not necessarily endangered, but that their trade is being controlled in order to prevent overexploitation. It is also important to emphasize that, unlike the woods used in instruments made in Asia, guitars made in Spain contain woods that come from sustainable forests, with all the certificates that guarantee the origin and sustainability of these woods.
---
What is CITES?
CITES (the Convention on International Trade in Endangered Species of Wild Fauna and Flora) is an international agreement for the conservation of the fauna and flora of our planet. Its purpose is to ensure that the international trade in specimens of animals and plants does not constitute a threat to their survival. To this end, CITES subjects international trade in certain species to particular controls.
There are currently more than 35,000 species of animals and plants in CITES. Of these, approximately 30,000 are species of plants and 5,000 species of animals.
---
Imports
Starting January 2nd 2017, when one buys wood or finished products containing any Dalbergia or Bubinga wood in a country outside the European Union, the importer will need a CITES permit provided by the seller or the supplier, to be presented with the documentation for the customs clearance.
The documentation that the seller or supplier must provide includes a CITES export or re- export permit, issued by their country's CITES authority.
---
Exports
Starting January 2nd, 2017, to export Rosewood (Dabergias) or Bubinga (Guibourtia demeusei, Guibourtia pellegriniana and Guibourtia tessmannii), or guitars containing these woods, a CITES export or re-export permit has to be processed and provided.
A permit will only be necessary if the wood or products are shipped to countries outside the European Union. For sales within the EU, no CITES permit is required (the only exception is Brazilian Rosewood, Dalbergia nigra, which is the onlyDalbergia on CITES Appendix I, and therefore ALWAYS requires a permit).
---
Can I still buy guitars containing rosewood, bubinga or other woods included in CITES appendix II?
Absolutely, but if you are buying a guitar containing these woods from outside the European Union, do it through a store that guarantees you to send the guitar with a CITES permit. If not, your guitar can be retained, returned or requisitioned at the destination customs. Here is an example of the CITES permit Guitar From Spain includes with a guitar containing rosewood (Dalbergia Latifolia) shipped to a client in USA: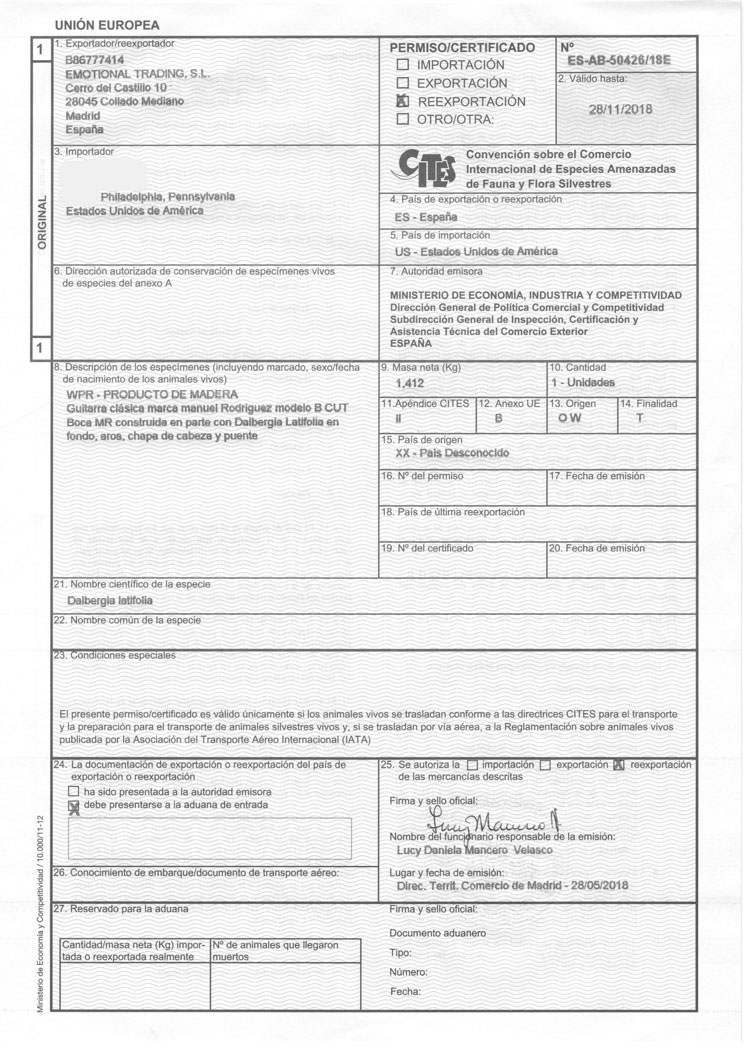 Guitar From Spain manages and pays CITES export permits whenever these are necessary for the export of guitars outside the European Union. It is the exclusive responsibility of the buyer / importer, any other type of permit or local fee required at the customs office of destination.
---
If you want to know more about CITES, read our full report here: https://blog.guitarfromspain.com/2018/07/06/cites-and-the-guitar/
---

Contact us
By telephone
+34 918428684
Monday to Friday
From 10.00 to 18.00

By mail:
info@guitarfromspain.com
24h / 365
Contact us